"Portraits of ephemeral happiness (1928-1939"
Pere Palahí Bach-Esteve (Girona, 1907 – Sant Cugat del Vallès, 1994)
In line with the work of recovering, protecting and disseminating the local and regional photographic heritage, this edition of the Xavier Miserachs Photography Biennial presents the work of an excellent amateur image creator who experienced the passage of glass plates to sensitive films first-hand, from old and heavy wooden cameras to his trusty, ever-present Leica reel camera.
A banker by profession, working as the director of the Banco de Cataluña branch in Palafrugell and as a representative of the Spanish Central Bank for many years, Pere Palahí was also an amateur photographer among other hobbies: he was also a renowned chess player. He took advantage of his free time during his accounting tasks to photograph landscapes, situations, and characters in their surroundings. His first images date back to the 1920s, from which time he tirelessly took portraits.
These youthful images (1928-1936), taken just before the Spanish Civil War, make up the bulk of this exhibition. The exhibit's title refers to the mixture of ingeniousness and happiness radiated by the gazes of the people in the portraits as well as the photographer himself. Youth, the beginnings of the widespread reach of the art of photography, the interwar period of the 1920s and the start of the 1930s, the new freedom of the republican Catalonia, along with nature in the Empordà as a space of leisure and enjoyment come together to reflect on the sensation of a period of happiness that remains etched and suspended in time thanks to the magic of photography, despite the fact that history would unfortunately turn the whole world upside down within a short period of time.
Here, then, are the portraits of an ephemeral happiness: youth, beauty, pleasure, and more. We have the image and, with it, the timeless memory that forms part of our legacy, of everything that we have experienced and shared.
In this unpublished selection, chosen from among the more than 4,000 negatives and photographic plates that are kept in the Palafrugell Municipal Archive, we can see the entire human and social fabric of the time. Landscapes, bathers, hikers, family members, and fellow citizens appear naturally in his photographs, without artifice, and become a valuable document of a time and country that endures through the photographer's gaze before our very eyes.
Our very special thanks to Joan Palahí London and Lluís Maimí Casanovas for the care and preservation of this valuable photographic legacy. A special thanks to Carles Palahí Bertran for his invaluable help in documenting the images.
Commissar: Enric Bruguera
Production: Biennal de Fotografia Xavier Miserachs
Printing: EGM
Archive: Arxiu Municipal de Palafrugell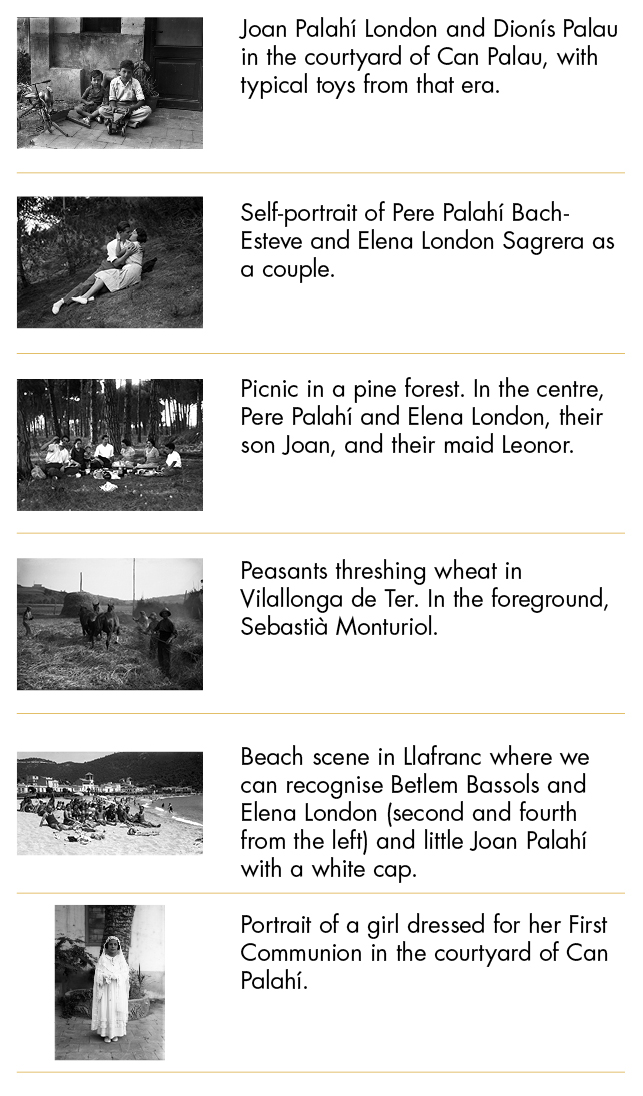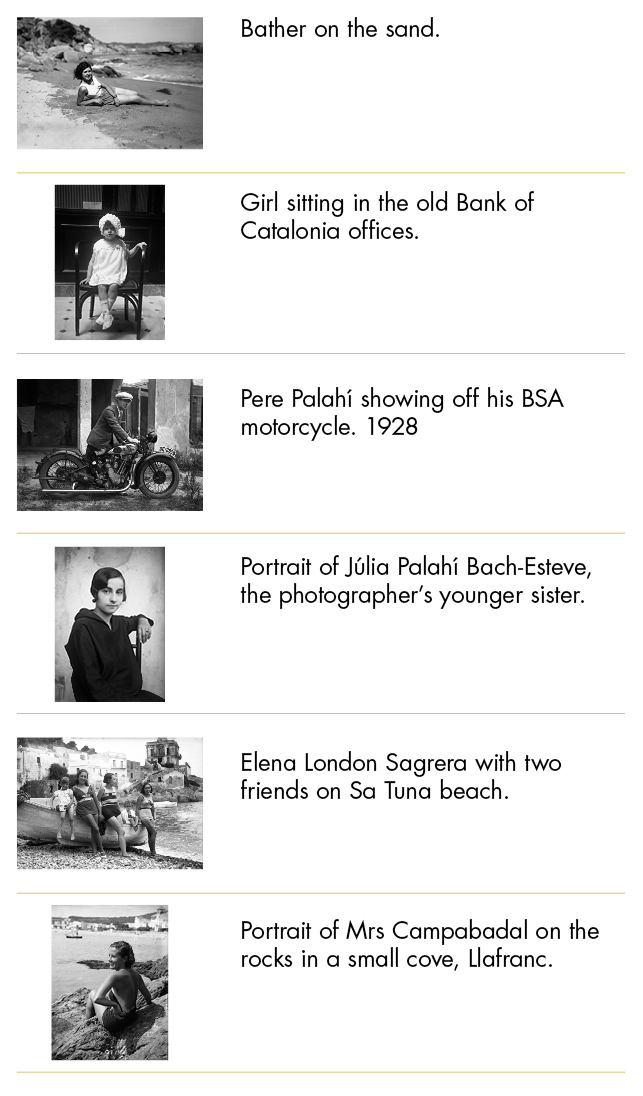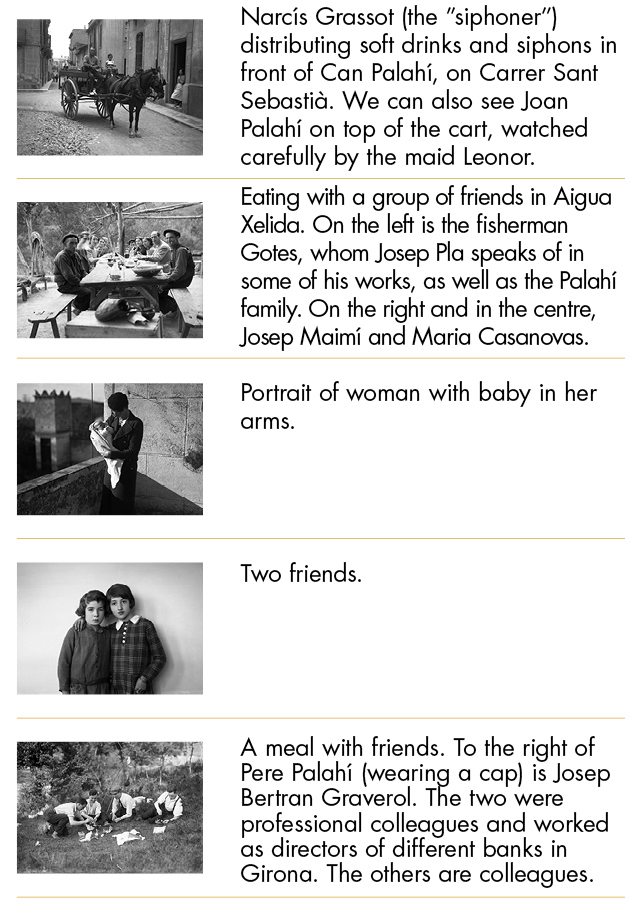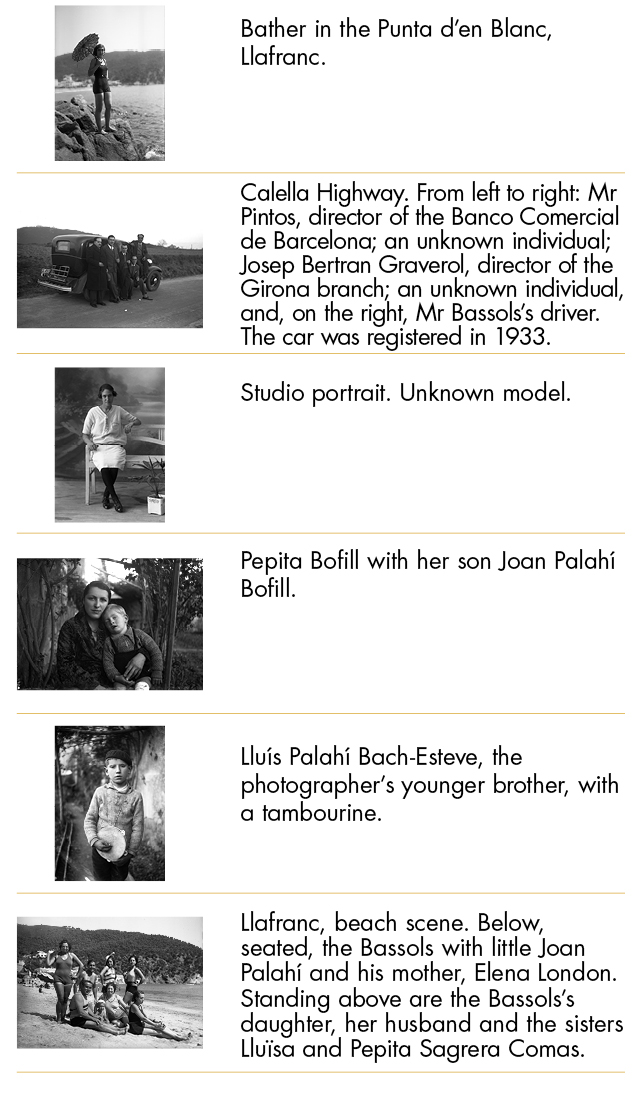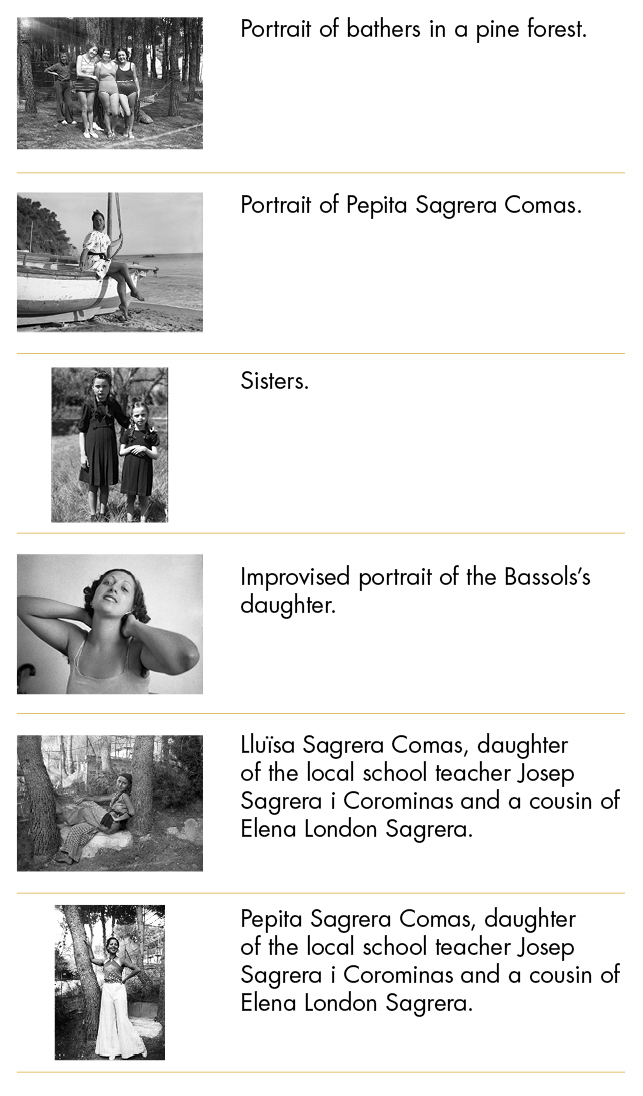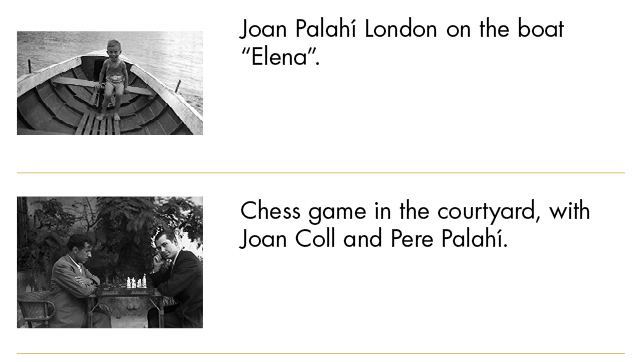 On 6 February 1939, at around 3 in the afternoon, we heard gunshots and cannons around Palafrugell and then we heard some very powerful loudspeakers that announced: 'Catalans, the National Army has arrived and put an end to the Red Terror.' Next, we went to the highest point on the Puig Calent to witness the event. The whole neighbourhood was there, and one man named Narcís Ferrer, a local, told us: 'You who are young, always remember this day; never forget it.'
The town filled with soldiers, officers, Phalangists, trucks, cars, and motorcycles loaded with war material, accompanied by flags and banners. A macabre show that covered the road from Palafrugell to L'Arrabassada."
Conrad Curanta's Eyewitness Statement
The last photographs that Palahí made on photographic plates (photographic material was scarce during the war) were some of the very few existing images of the first months of the Francoist occupation in Palafrugell. Specifically, funerals were held on 17 June 1939, followed by a large parade through the streets of the town, in memory of fellow citizens killed by 'the Red-separatist hordes.'